Mesolift face is an act of aesthetic medicine both preventive and curative of skin aging.
Mesolift face is THE BASIC CARE in aesthetic medicine.
Mesolift or aesthetic mesotherapy is a treatment depth of the skin, no moisturizer can match!!
Mesolift is treatment of revitalization and facial rejuvenation based on injecting a nutrient and multi-vitamin complex in the dermis, in order to give radiance to the face, improve skin quality, reduce wrinkles and give a firming and plumping effect.
Mesolift consists of natural products: Hyaluronic acid fillers, vitamins...
Areas that can be treated through cosmetic mesotherapy are the face, décolleté, neck and the back of the hands.
Mesolift affect patients at any age from 25 years.
What is mesolift face?
Mesolift of the face or facial aesthetic mesotherapy medicine, is an act of bio-revitalization and facial rejuvenation, it gives a glow, remove wrinkles and prevent aging, by injecting to the face a mixture of vitamins, minerals, amino acids and hyaluronic acid.
Mesolift face is BASIC CARE OF ANY ANTI-AGING PROGRAM.
Mesolift is a medical procedure; it can be done by a licensed physician to do so, and not in a center or beauty salon.
Mesolift can also be applied to the neck, décolleté and back of hands.
Principle of facial mesolift
Revitalization treatment and facial rejuvenation, mesolift technique involves injecting a nutrient and aconditioner cocktail of several vitamins, minerals, amino acids and hyaluronic acid, in the superficial dermis.
Mesolift = Hyaluronic Acid + Vitamins
This polyrevitalisant mesolift cocktail consists of:
Vitamins A, B, C, D, E ... (A and C: revitalizing action, E: antioxidant and anti-radical).
Minerals: Calcium, Sodium, Magnesium, Phosphorus ...: correcting the deficiencies of the skin.
Trace elements: iron, zinc, fluoride, copper, iodine, selenium...
Amino acids: proteins for the construction (elastin and collagen).
Nucleic Acids: allowing activation of inter-cellular communication.
Non-crosslinked Hyaluronic acid or weakly crosslinked: moisturizing and plumping.
Antioxidants: promoting the decrease of the synthesis of free radicals.
All of these components cause the stimulation of the micro-circulation, oxygenation and collagen production in the skin.
Mesolift goals
Like PRP therapy, mesolift is an aesthetic treatment with two objectives:
Curative: giving a glow to the face, improving skin tone, texture, suppleness of the skin and reducing wrinkles.
Preventive: skin aging recommended from 30 years.
The different types of mesolift
There are 2 types of mesolift depending on the depth of their action:
Superficial Mesolift: injection of the product is done in the dermis or superficial dermis.
Deep Mesolift (skin booster): hyaluronic acid allows filling wrinkles.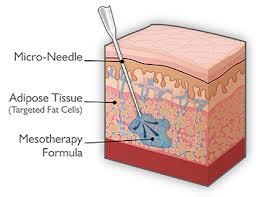 Mesolift types: superficial and deep
Mesolift techniques
Depending on the depth of mesolift different injection techniques are described:
The technique of topping or multi-bites.
The technique of micro-papules.
The technique of deep mesolift or skin booster.
Mesolift can be done by hand or spray.
The indications of mesolift
Mesolift or aesthetics facial mesotherapy is conveniently indicated in the following cases:
The dull and tired skin.
Damage caused by the sun, smoking, stress, pollution.
Oily skin and acne.
Dry skin, thin and dehydrated.
All skins starting from 30 years old for prevention of skin aging.
Mesolift - Indications
The areas treated by mesolift
Areas that may be treated by mesolift are:
Essentially the face,
But also the neck, décolleté and back of hands.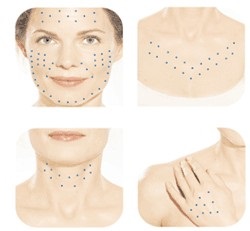 Mesolift - Areas
How to prepare before mesolift session?
Before mesotherapy session, it is advisable to:
Do not take aspirin or anticoagulants three days before the session.
Do not sunbathe or drink alcohol the night before and the day of the meeting.
Does we need anesthesia for mesolift session?
Cosmetic mesotherapy, being painless, does not require a local anesthetic.
It is also possible to use an anesthetic cream one hour before the meeting.
Medical devices used by Dr Chiraz Bouzguenda
The brands of medical devices used by Dr. Bouzguenda for mesolift are:
The NCTF 135HA solution FILORGA laboratories
The solution Redensity laboratories TEOSYAL
Restylane Vital solution, Qmed Galderma Laboratories of RESTYLANE.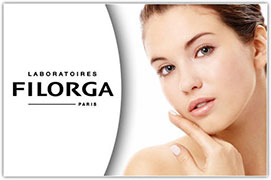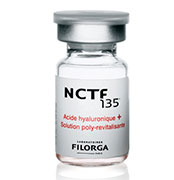 Filorga Mesolift
How is a mesolift session?
Facial mesolift session takes place at the private office of the surgeon:
Cleaning and disinfection of the skin
Multiple injections in the superficial dermis and in very small amounts of a nutrient complex with a very fine needle, using the technique of layering or micropapules.
The choice of cocktail conditioner is suitable for every skin type.
The mesolift session lasts about twenty minutes.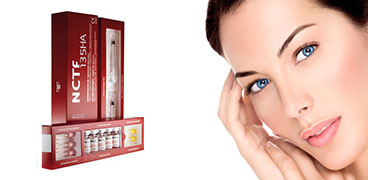 Mesolift session
Care after mesolift?
Mesolift is low trauma local beauty treatment does not require particular post-mesolift care.
An immediate resumption of activity is quite possible.
It is advisable to avoid the sun, violent efforts, hot baths and aspirin. To extend the results of mesolift, cosmetics and products for food supplements will be prescribed.
How many mesolift sessions?
For best results, mesolift 5 sessions are recommended:
3 sessions at 15 days apart,
Then the other 2 sessions at 15 days apart.
A maintenance session is recommended every 4 months, ideally at the change of seasons.
The results are visible from the 3rd session.
How many mesolift sessions?
Mesolift results?
The result of a mesolift is clearly visible from the third session and is remarkable with:
Significant improvement of the quality of the skin with hydration: skin smoother and softer.
Significant improvement of skin complexion: skin more radiant and better elasticity.
A tightening effect through the restructuring of the skin.
A natural result without any artificial effect.
The results of a mesolift practiced over several sessions and completed with a personalized cosmetic care, takes 3-4 months you must have a maintenance session.
Who can benefit from mesolift?
Mesolift occurs at any age, usually from the age of 25 as a preventive measure.
Mesolift is aimed at two sexes: women and men.
Mesolift caters to all types and skin colors.
The benefits of a mesolift?
Mesolift contains only natural products.
The cons-indications of a mesolift?
Infection or inflammation.
Known allergy product.
Autoimmune disease.
Pregnancy or lactation.
Anticoagulants jack.
Mesolift risks?
The risks of mesolift are exceptional:
Allergy: exceptional.
Prolonged redness.
The procedure at the glance
Procedure : To revitalize, hydrate and plump the skin by a multi-vitamin and moisturizing cocktail.

Hospital stay : outpatient at the office .

Length :20 minutes.

Anesthesia : No.

Recovery :No.
mesotherapy abroad